Hello Everyone!!!
Today's blog post is a little different. For the 1st time I am trying to do the 30 day coloring challenge that is organized by Kathy Racoosin on her blog The Daily Marker. If you guys are new to her challenge, all the information about it can be found here.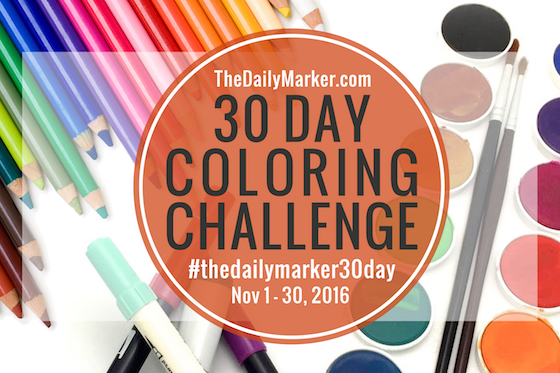 She has organized this challenge many times in the past and even if I wanted to participate, I couldn't for some or the other reason. But this time I have decided to dive all in. I'm going to try to do it daily.
For the past 7 days I was successful in coloring a little bit daily and posting my work on my Instagram account. But to keep it more motivating, I'm going to do a weekly round-up every 7 days displaying all images that I have colored in the last 7 days in here in a blog post. So today I'm here with my 1st update. Below are all the 7 images from Day 1 to Day 7.
I hope you all liked my card. I would love to hear back from you all. Thank you very much for taking your time to notice it. Hope to hear again from all of u soon. Till then take care. :)

PS: If my posts inspire you to create something on similar lines, I feel highly flattered. But please, do respect the effort I take in conceptualizing and executing, please give a direct link to my work when you are inspired by mine. Thanks for understanding :-)
Supplies used:
Strathmore Bristol paper
Zig Clean Color Real Brush Pens (Colors mentioned in each photo)
Versafine inkpad - Onyx black
Ranger Watercolor brush -small
Verve Stamps - Floral Notes
Lil' Inker Designs - Modern Mehndi
Altenew - Hennah Elements
Ellen Hutson - Mondo Magnolia
Stampendous - Bouquet for you
Recollections - Snowman stamps